Paul Troubetzkoy mixed with celebrities of his day on both sides of the Atlantic. Among his best works were a small number of portraits of talented young women who achieved fame for their dancing abilities. Firstly his 'Danseuse' of 1910, then his 1914 Lady Constance Stewart Richardson depicted the notable Scottish dancer and suffragette (1883-1932) and finally his 1915 cast of Irene Castle. In each of these sculptures, the subject appears entirely wrapped up in their thoughts, unaware of the viewer.
Troubetzkoy's 1910 Danseuse was modelled on Thamara de Svirsky (1883-1972). De Svirsky was an international artist, pianist and dancer, appearing in many leading roles in the early 20th century and collaborating with Igor Stravinsky and Edvard Grieg. She was also known for dancing barefoot. "Her costumes are triumphs of sartorial amplitude," declared one disappointed critic. "They leave everything to the imagination."(1)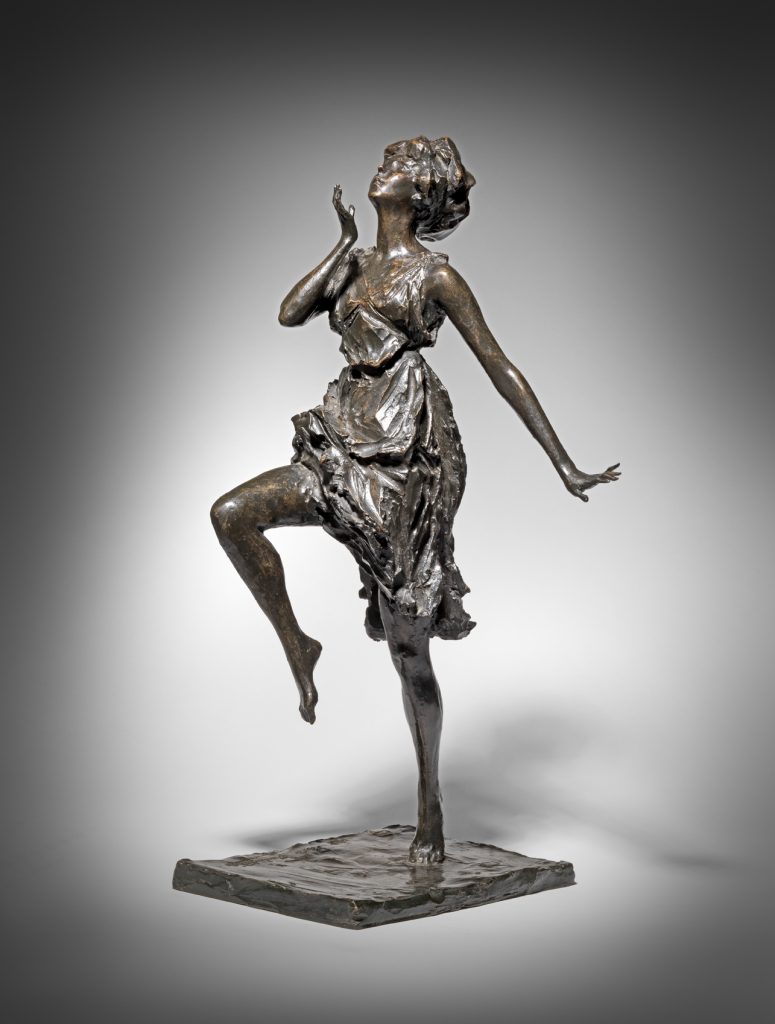 Of Russian origin, it was in Paris that she met Prince Paul Troubetzkoy when he left Russia in 1905. Following this meeting, he modelled Tamara with an energy, a fluidity and refinement which characterizes his work.
American critics immediately recognised the quality and modernity of Troubetzkoy's works, not least the art critic Charles L. Borgmeyer, who wrote about the bronze of Thamara: "(Standing) in front of the 'Dancer', who has abandoned her old-fashioned ballet skirt, removed her stockings, dancing without shoes or stockings, dressed only in loose and flowing draperies, one can only marvel at the charm and grace of this small bronze figure; of the achievement of beauty in dance, an expression of art formulated in a universal language" (2).
Lady Constance Stewart-Richardson was a flamboyant and charismatic woman of many talents. She was best known for her career as a barefoot classical dancer, an unheard of profession for a titled woman. Her revealing dance costumes caused uproar in Edwardian society.
In 1914 Paul Troubetzkoy modelled a bronze sculpture on Lady Constance observing: 'it is rare that such exuberant vitality is combined with such perfect lines and grace of movement.' 'Describing his technique he said 'I try to portray the spiritual, the abstract – the body animated by the spirit within, not the external features alone.' In this work he captured the grace and tenacity of Lady Constance more accurately than any other artist.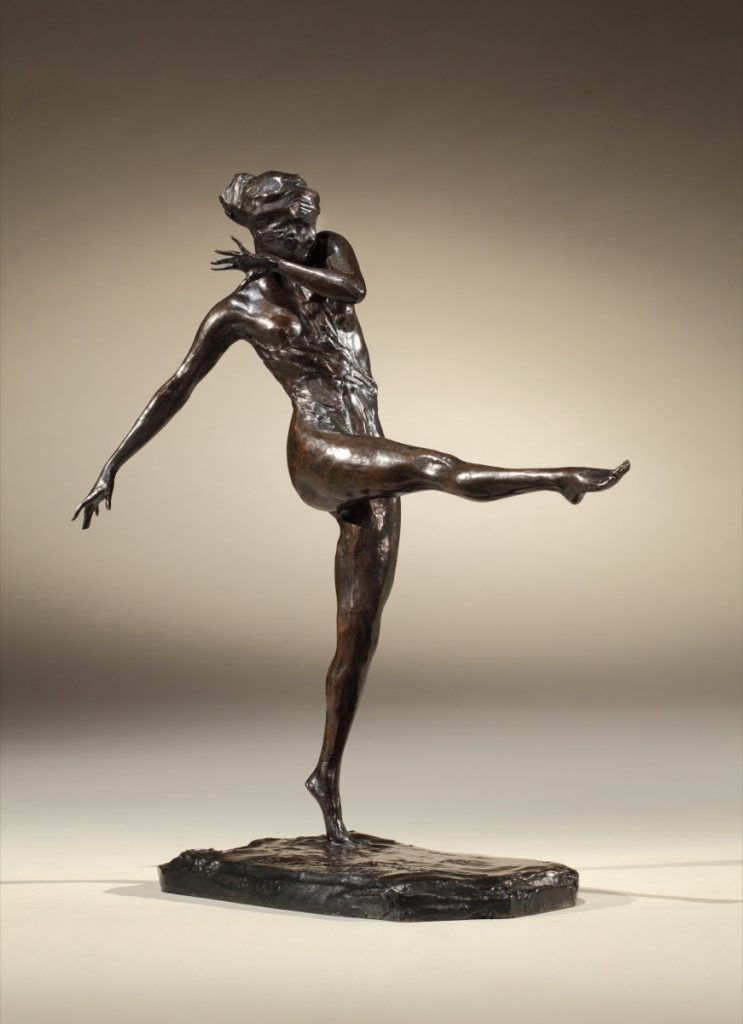 Troubetzkoy's bronze of Irene Castle was created a year later. As well as being one of the great celebrities of the early 20th C., Irene was a leading animal rights activist; Troubetzkoy of course was a committed vegetarian. Her life with husband and dance partner Vernon, who died as a fighter pilot in WW1, was later dramatized by Irving Berlin in 'The Story of Vernon and Irene Castle', starring Fred Astaire and Ginger Rogers.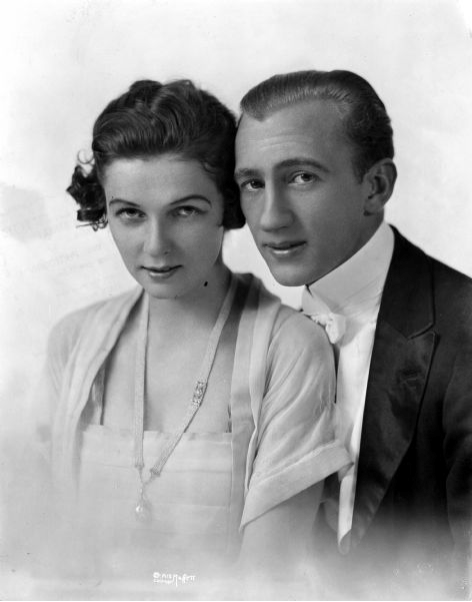 This video clip of Vernon and Irene Castle from the silent film "Whirl of Life" recreates the 1912 Paris performances that attracted Troubetzkoy:
Gilbert Seldes penned this eloquent description of Irene in 1924 "No one else has ever given exactly that sense of being freely perfect, of moving without effort and without will, in more than accord, in absolutely identity with the music. There was always something unimpassioned, cool not cold, in her abandon; it was certainly the least sensual dancing in the world; the whole appeal was visual. It was as if the eye following her graceful motion across a stage was gratified by its own orbit, and found a sensuous pleasure in the ease of her line, in the disembodied lightness of her footfall, in the careless slope of her lovely shoulders. There was only dancing, and it was all that one ever dreamed of flight, with wings poised, and swooping down".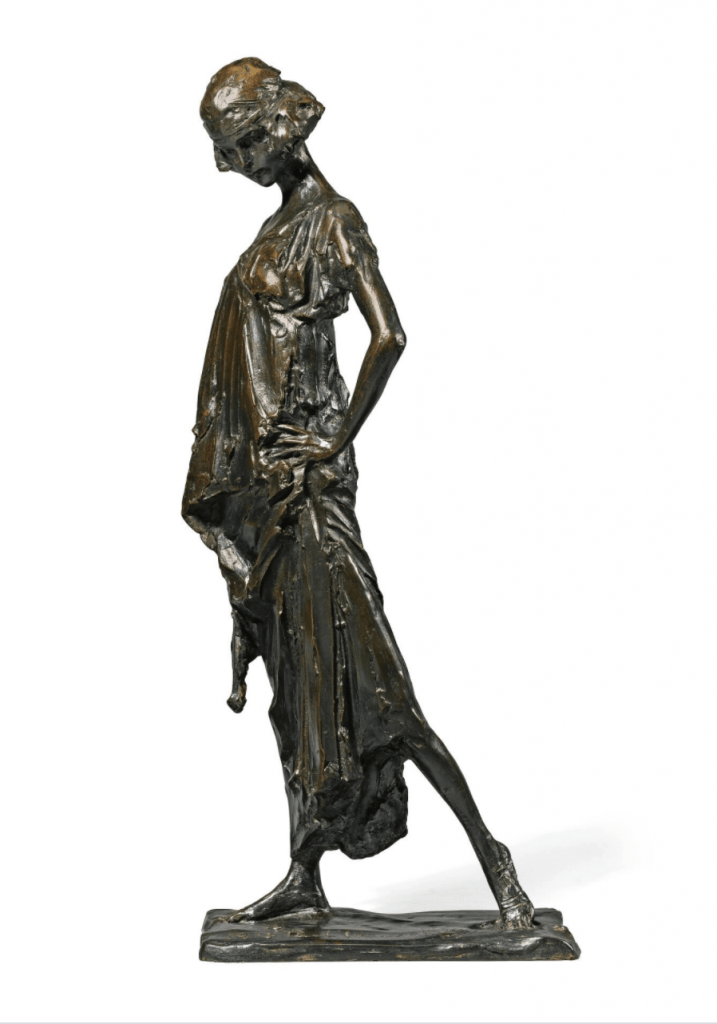 His sculpture exhibits an expression of fixed concentration as she conducts her performance, which is balanced by an air of ethereality, created by her open pose and flowing gown. This loose style of dress would later be adopted by 'the flappers' and set a trend that would endure throughout the 1920's.
References
1 Edward F. O'Day, "Thamara de Svirsky Disappointed" San Francisco Daily Times (November 12, 1910): 8.
2 Charles L. Borgmeyer, Prince Paul Troubetzkoy – Sculptor, in Fine Arts Journal, Chicago, July 1911, p.13.